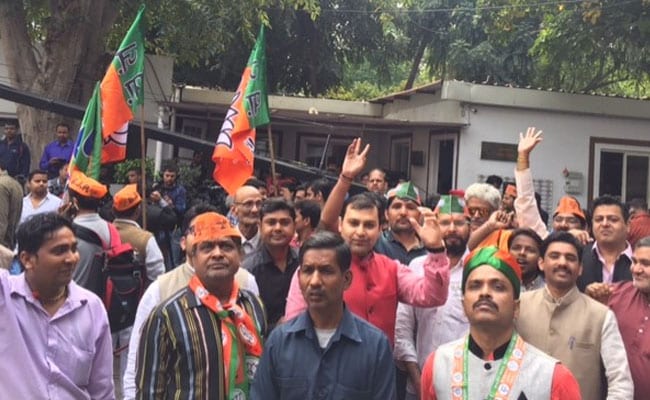 New Delhi:
The Bharatiya Janata Party (BJP) has posted a spectacular win in Uttar Pradesh and is set to win over 320 of the state's 403 seats. The party has credited the victory to Prime Minister Narendra Modi's leadership. PM Modi led the party in an intense campaign to win the state after 15 years.
The Akhilesh Yadav-led Samajwadi Party-Congress alliance and Mayawati's Bahujan Samaj Party (BSP) have been reduced to numbers that are a fraction of their seat tallies five years ago. The SP- Congress alliance is set to win only 60 seats while the BSP is trailing at 18 seats.
Outgoing chief minister Akhilesh Yadav is expected to meet the state's governor this evening to resign. The VBJP did not project a chief ministerial candidate in UP and party chief Amit Shah said today that it would select a leader for the top post on merit.
The marathon Uttar Pradesh elections were held in seven phases between February 11 and March 8.
UP Election Results 2017 - winning candidates
| CONSTITUENCY | CANDIDATE (PARTY) |
| --- | --- |
| Unnao | Pankaj Gupta (BJP) |
| Fatehpur | Vikram Singh (BJP) |
| Rampur Khas | Aradhana Mishra Mona (INC) |
| Vishwanath Ganj | Rakesh Kumar Verma Alias Dr.R.K.Verma (AD (Soneylal)) |
| Behat | Naresh Saini (INC) |
| Nakur | Dr.Dharam Singh Saini (BJP) |
| Saharanpur Nagar | Sanjay Garg (SP) |
| Deoband | Brijesh (BJP) |
| Gangoh | Pradeep Kumar (BJP) |
| Kairana | Nahid Hasan (SP) |
| Thana Bhawan | Suresh Kumar (BJP) |
| Shamli | Tejendra Nirwal (BJP) |
| Budhana | Umesh Malik (BJP) |
| Charthawal | Vijay Kumar Kashyap (BJP) |
| Purqazi | Pramod Utwal (BJP) |
| Muzaffar Nagar | Kapil Dev Agarwal (BJP) |
| Khatauli | Vikram Singh (BJP) |
| Meerapur | Avtar Singh Bhadana (BJP) |
| Najibabad | Tasleem Ahmad (SP) |
| Nagina | Manoj Kumar Paras (SP) |
| Barhapur | Sushant Kumar (BJP) |
| Dhampur | Ashok Kumar Rana (BJP) |
| Nehtaur | Omkumar (BJP) |
| Bijnor | Suchi (BJP) |
| Chandpur | Kamlesh Saini (BJP) |
| Noorpur | Lokendra Singh (BJP) |
| Kanth | Rajesh Kumar Singh (Chunnu) (BJP) |
| Thakurdwara | Navab Jan (SP) |
| Moradabad Rural | Haji Ikram Qureshi (SP) |
| Moradabad Nagar | Ritesh Kumar Gupta (BJP) |
| Kundarki | Mohammad Rizwan (SP) |
| Bilari | Mohd. Faeem (SP) |
| Chandausi | Gulab Devi (BJP) |
| Asmoli | Pinki Yadav (SP) |
| Sambhal | Iqbal Mehmood (SP) |
| Chamraua | Naseer Ahmad Khan (SP) |
| Bilaspur | Baldev Singh Aulakh (BJP) |
| Milak | Rajbala (BJP) |
| Dhanaura | Rajeev Kumar (BJP) |
| Naugawan Sadat | Chetan Chauhan (BJP) |
| Amroha | Mehboob Ali (SP) |
| Hasanpur | Mahender Singh Khadakvanshi (BJP) |
| Siwalkhas | Jitendra Pal Singh Billu (BJP) |
| Sardhana | Sangeet Singh Som (BJP) |
| Hastinapur | Dinesh Khatik (BJP) |
| Kithore | Satyavir Tyagi (BJP) |
| Meerut Cantt. | Satya Prakash Agarwal (BJP) |
| Meerut | Rafiq Ansari (SP) |
| Meerut South | Dr. Somendra Tomar (BJP) |
| Chhaprauli | Sahender Singh Ramala (RLD) |
| Baraut | Krishanpal Malik Urf Krishanpal Malik (BJP) |
| Baghpat | Yogesh Dhama (BJP) |
| Loni | Nandkishor (BJP) |
| Muradnagar | Ajit Pal Tyagi (BJP) |
| Sahibabad | Sunil Kumar Sharma (BJP) |
| Modi Nagar | Dr. Manju Shiwach (BJP) |
| Dhaulana | Aaslam Choudhary (BSP) |
| Hapur | Vijay Pal (BJP) |
| Garhmukteshwar | Kamal Singh (BJP) |
| Noida | Pankaj Singh (BJP) |
| Dadri | Tejpal Singh Nagar (BJP) |
| Jewar | Dhirendra Singh (BJP) |
| Sikandrabad | Bimla Singh Solanki (BJP) |
| Bulandshahr | Virendra Singh Sirohi (BJP) |
| Syana | Devendra (BJP) |
| Anupshahr | Sanjay (BJP) |
| Debai | Anita Singh Rajput (BJP) |
| Shikarpur | Anil Kumar (BJP) |
| Khurja | Vijendra Singh (BJP) |
| Khair | Anoop (BJP) |
| Barauli | Shri Dalveer Singh (BJP) |
| Atrauli | Sandeep Kumar Singh (BJP) |
| Chharra | Ravendra Pal Singh (BJP) |
| Koil | Anil Parashar (BJP) |
| Aligarh | Sanjeev Raja (BJP) |
| Iglas | Rajveer Diler (BJP) |
| Chhata | Laxmi Narayan (BJP) |
| Mant | Shyam Sunder Sharma (BSP) |
| Goverdhan | Karinda Singh (BJP) |
| Mathura | Shrikant Sharma (BJP) |
| Baldev | Pooran Prakash (BJP) |
| Etmadpur | Ram Pratap Singh (BJP) |
| Agra Cantt. | Dr. Girraj Singh Dharmesh (BJP) |
| Agra South | Yogendra Upadhyaya (BJP) |
| Agra North | Jagan Prasad Garg (BJP) |
| Agra Rural | Hemlata Diwakar (BJP) |
| Fatehpur Sikri | Chau. Udaybhan Singh (BJP) |
| Kheragarh | Mahesh Kumar Goyal (BJP) |
| Fatehabad | Jitendra Verma (BJP) |
| Tundla | Satya Pal Singh Baghel (BJP) |
| Jasrana | Ramgopal (BJP) |
| Firozabad | Manish Asija (BJP) |
| Shikohabad | Mukesh Verma (BJP) |
| Sirsaganj | Hariom Yadav (SP) |
| Amanpur | Devendra Pratap (BJP) |
| Aliganj | Satyapal Singh Rathaur (BJP) |
| Etah | Vipin Kumar David (BJP) |
| Marhara | Virendra (BJP) |
| Jalesar | Sanjeev Kumar Diwakar (BJP) |
| Mainpuri | Rajkumar Alias Raju Yadav (SP) |