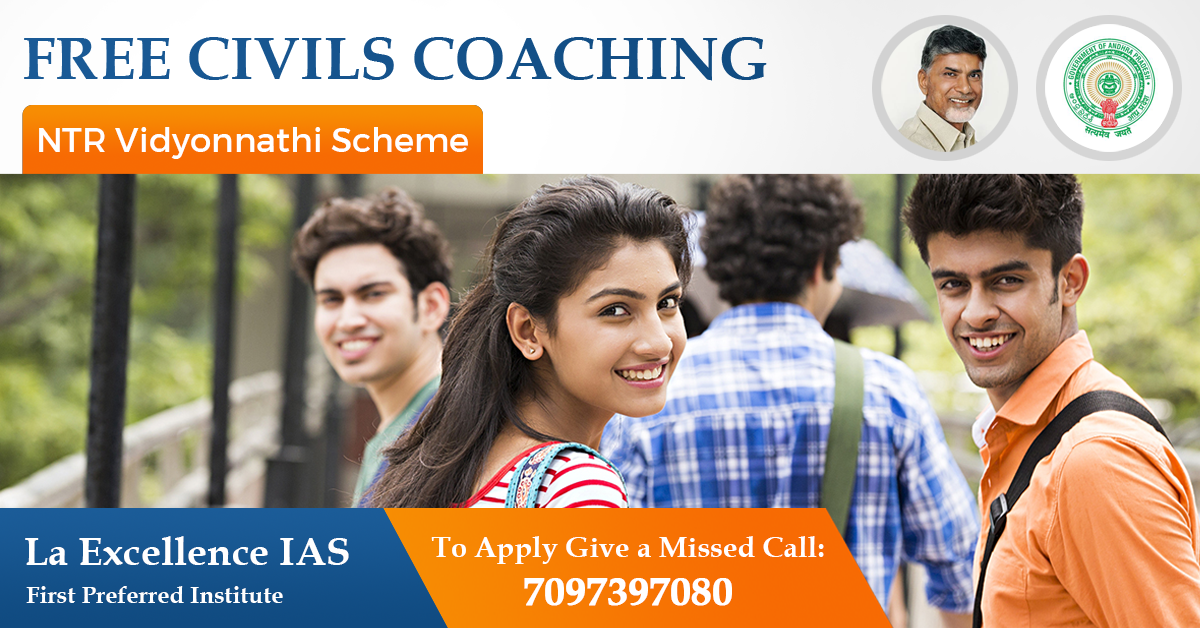 About NTR Vidyonnathi Scheme
Entrance Exam for NTR Vidyonnathi Scheme
1. An entrance examination will be conducted by the JNTU Kakinada to select the students.

2

. Questions will be both in English & Telugu.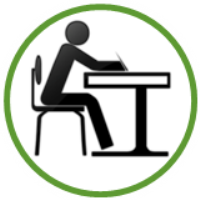 Exam Pattern for NTR Vidyonnathi Scheme
1. The entrance exam will be objective type (one paper only) with 150 questions for 150 marks. Time duration is 180 minutes.

2. Answers shall be marked on OMR sheet (with ball point pen (blue or black), Pencil shall not be used.

3. Questions will be both in English & Telugu.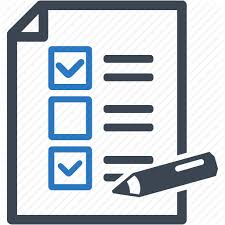 Total Seats for AP Civil Services Free Coaching.
Below mentioned seats will be distributed among all the subgroups of STs as per their population, so as to ensure equity among sub-groups.
Total Number of seats - 3850
Minority Members – 300 seats
Brahmana Members – 50 seats
Age Limit for NTR Vidyonnathi Scheme
1. A candidate must have attained the age of 21 years and must not have attained the age of 32 years.as on 1st August, 2018.

2. For BC candidates - upper age limit is 35 years.

3. For SC/ ST candidates - upper age limit is 37 years.

4. In case of disabled candidates (VH/HH/OH), upper age limit is 42 years.
Eligibility for NTR Vidyonnathi Scheme
1. The applicant should belong to Kapu, Balija, Telaga and Ontari communities

2. The annual family income shall not exceed Rs. 6.00 lakhs

3. Age: Eligibility for examination shall be as per UPSC Prelims Notification guidelines.

4. Gajula Balija and Setti Balija communities from Rayalaseema region with O.C. Certificate issued by the Tahsildar are also eligible.

5. Turupu Kapu and Gajula Kapu communities are not eligible. Applicants from Reddy community from Nellore,Chittoor, Kadapa, Ananthapuram .and Kurnool district with kapu caste certificates issued by Tahsildhar are not eligible.

6. The applicant should not have availed himself or herself of any amount under any other Government scheme for the same purpose.
Educational Qualification:

Candidate should have passed any Degree course and candidates appearing final year of Degree course are also eligible subject to production of valid pass marks memo at the time of counselling.
Syllabus for NTR Vidyonnathi Scheme
The syllabus will be the same as the syllabus for UPSC Preliminary examination, which is as follows:

1. Current events of National and International importance.

2. History of Indian and Indian National Movement.

3. Indian and World Geography, Physical, Social, Economic Geography of India and the World.

4. Indian Polity and Governance- Constitution, Political System, Panchayati Raj, Public Policy, Rights issues etc.,

5. Economic and Social Development – Sustainable Development, Poverty, Inclusion, Demographics, Social Sector Initiatives etc.

6. General issues on Environmental Ecology, Bio- diversity and Climate Change- that do not require subject specialization.

9. Interpersonal skills including communication skills,

10. Logical reasoning and analytical ability

11. Decision making and problem solving

13. General Mental ability

14. Basic numeracy (numbers and their relations, orders of magnitude etc., (Class X level), Data Interpretation (charts, graphs, tables, data sufficiency etc., Class X level)
Exam Centres for NTR Vidyonnathi Scheme
1. The entrance examination shall be conducted at Visakhapatnam, Kakinada, Vijayawada, Ongole, Tirupati, Anantapur and Kadapa.

2. Candidates have to give their order of preference for the Centres in the application form. However, candidates may note that they may be allotted to any one of the centres mentioned above depending on the number of candidates opting for the centre.
Coaching Centres for NTR Vidyonnathi Scheme
Candidates will be allotted to following Empanelled Institutes as per their preference basing on examination merit ranking.
1. La Excellence, Hyderabad * (1st preference)
2. Shankar IAS Academy, Chennai
3. Varsity Education Management Private Ltd. (Sri Chaitanya), Hyderabad
5. Alternative learning system, New Delhi
6.
RC Reddy IAS Study Circle, Hyderabad
7. Sri Rams IAS, New Delhi
8. Universal Coaching Centre, Bangalore
9. Dr. Lakshmaiah IAS Study Circle, Hyderabad
10. Toppers IAS Academy ,Hyderabad
11. Krishna padeep ( 21st Century ), Hyderabad
12. Analog IAS Institute , Bangalore
13. Analog IAS Institute , Hyderabad
Important Dates (NTR Vidyonnathi Scheme)
1. Starting Date for Submission of online application: 25.05.2017

2. Registration closing Date: 14.06.2017

3. Downloading of Hall Tickets from: 15.06.2017 to 19.06.2017

4. Screening Test - Exam Date: 20.06.2017
Documents Checklist (NTR Vidyonnathi Scheme)
Applicant should upload the scanned copies (in .jpg format of max 30 KB size each) of the self attested copy of the following documents:

2. Aadhar card of the applicant.

3. Integrated Certificate including Community, Nativity, Residence and Date of birth issued by competent authority.

4. Date of birth proof (SSC certificate).

5. Graduate degree mark sheet.

6. Passbook details of savings bank Account in any

7. Nationalized Bank (account must be in the name of applicant).

8. Passport size photograph (in JPEG format up to 30 KB size.

9. Disability certificate (as applicable).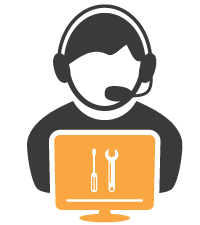 ✍

#Get Free Help

Let Experts fill the Application for you, Get guaranteed Scholarship & Stipend. All the eligible applicants can use this free service.
Give us a

missed call

at

9052193939

and we will help you fill the application correctly.
For more information visit http://promo.laex.in/
---